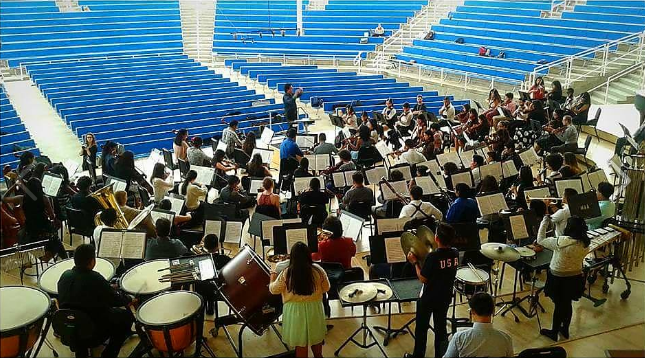 As a sign of maturity for the burgeoning El Sistema movement in the United States, students from across the country are gathering in the first national youth orchestras for young musicians enrolled in El Sistema-inspired programs.  The national "Take a Stand" festival orchestras are the result of a  joint partnership between the LA Philharmonic, Venezuela's FundaMusical, Aspen Music Festival and School, Bard College, and Longy School of Music of Bard College, in cooperation with El Sistema USA.
In June, 84 students selected by audition from programs in the western US joined together for a week in Aspen, CO culminating in a concert conducted by Maestro Robert Spano of the Atlanta Symphony Orchestra. See photos and videos on Facebook here.
In August, about 100 students from El Sistema-inspired programs in the eastern US will gather at Bard College in New York for a week of rehearsals leading up to a concert on August 20 under the baton of Maestro Leon Botstein.
In 2017, 100 students from El Sistema USA programs nationwide will be chosen for an orchestra to perform under the direction of Maestro Gustavo Dudamel in a concert at Disney Hall in Los Angeles.
BRAVO Artistic Director Mark Woodward is one of a dozen Teaching Artists selected to form the international teaching faculty. As the Choir/Musicianship Specialist, he is teaching the students to sing their concert repertoire using solfege (do, re, mi) and plays with the second violin section. Read more about the other Take a Stand Teaching Faculty here.  Thanks for making music with our sister organizations and representing BRAVO so capably at the national level, Mr. Mark!