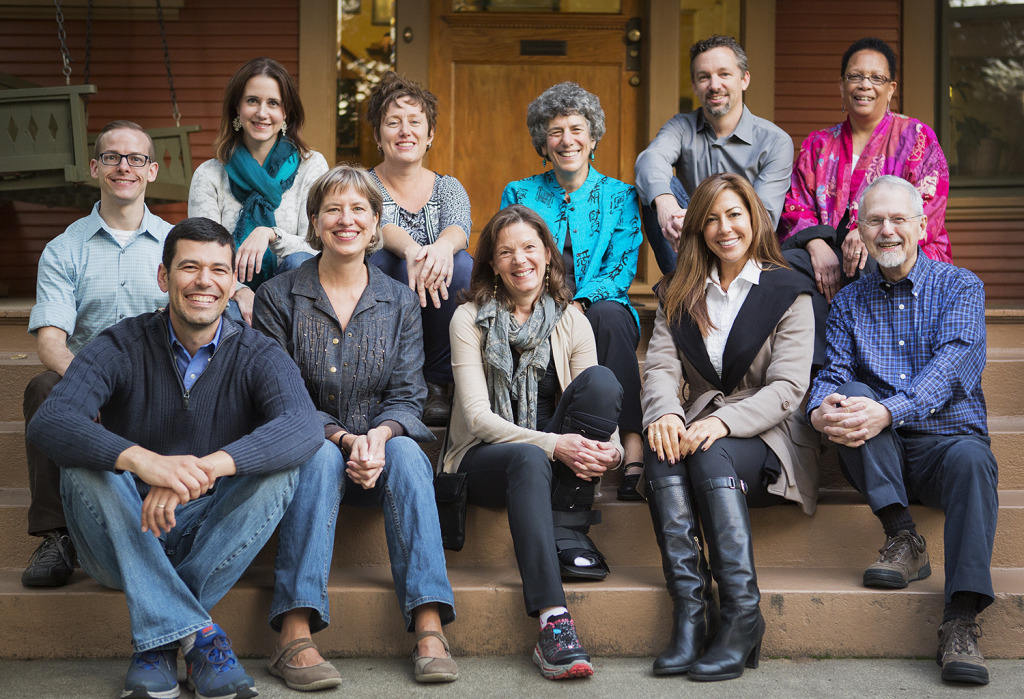 ---
Bonnie Reagan, MD    Board President and co-founder
Retired family physician, social justice and health advocate
Board chair of El Sistema USA national board of directors since 2016
Born in Philadelphia, Bonnie has enjoyed a varied career since moving to Portland in 1968. After working as a high school teacher and nurse practitioner, she went to medical school while raising her children and practiced as a family doctor for 22 years. She was honored as the Oregon Family Physician of the Year in 2010. During her years as a full-time physician, she also worked in the field of ethics and in end-of-life care. She sang in the Choral Arts Ensemble with Roger Doyle for 20 years. Bonnie has been fortunate enough to travel internationally: volunteering in Thailand and Ukraine, trekking in Nepal and Patagonia, and canoeing in the Canadian Arctic, where she was chased by a grizzly bear.
---
Cynthia Macleod, Board Secretary
Assistant Director of Equity, Portland Public Schools
Born in Portland, Cynthia grew up in Texas and returned to Oregon with her family when she was sixteen. She graduated from Grant High School, Eastern Oregon University and Portland State University. A classroom teacher and school principal, she was honored as an outstanding educator in 1996 with the Milken Educator Award. Cynthia retired from a long teaching and administrative career in 2011. She and her brother enjoyed singing in school choirs and listening to the New York Philharmonic directed by Leonard Bernstein on television countless Sunday afternoons. Sundays are still filled with music when Cynthia plays English handbells at her Methodist church.
---
Lorelei Juntunen
Vice President of Operations, ECONorthwest
A 16 year veteran of the public policy consulting firm ECONorthwest, Lorelei has dedicated her career to supporting data-informed decision-making for local government policy choices. Her consulting has focused specifically on housing affordability and public-sector fiscal issues. She also serves as the Vice President of Operations, and oversees implementation of the firm's strategic plan and its administrative functions. Lorelei serves as a Trustee for Oregon's chapter of The Nature Conservancy; she chairs the finance committee. She believes music should be a participatory sport for musicians of all skill levels; as such, she adds mediocre keys and passable vocals to an otherwise excellent North Portland neighborhood band. She is a resident of St. Johns and the parent of two BRAVO students, and brings that perspective to her work on the Board.
---
Irving Levin
Trustee, Renaissance Foundation; founder and Executive Chairman, Genesis Financial Solutions
Irving is a serial entrepreneur and serves a number of small entrepreneurial companies as an investor/mentor/board member. He was awarded a Lifetime Achievement Award by the Oregon Entrepreneurial Network, and has received other recognition for his work supporting entrepreneurs and their companies. He is also active in the non-profit and philanthropic arena. Irving and his wife Stephanie Fowler are co-Trustees of The Renaissance Foundation, which concentrates on improving educational opportunities for children and people in need. He is a past board member of SMART, St. Vincent Hospital's Foundation Board, the Children's Institute among others, and is currently the Chairman of Digital Divide Data, a social enterprise which operates in Cambodia, Laos and Kenya. He also is a trustee of Portland State University. Early in his career, Mr. Levin was a professional cellist, performing in Chicago and Mexico. He continues to be an avid amateur musician.
---
George Olsen, MD
Professor Emeritus, School of Medicine, Oregon Health and Science University
For 42 years George was a teacher of basic medical sciences for first and second year medical students and graduate students, and maintained nationally funded research concerning the effects of maternal drug abuse on fetal and neonatal development. He received numerous teaching awards and published over 60 peer-reviewed scientific articles in nationally and internationally recognized journals. Before attending Harvard Medical School, George was a music major at Dartmouth College.
---
Cameron Madill
CEO, PixelSpoke; entrepreneur and social innovator
In addition to founding and leading PixelSpoke, Cam's extensive volunteer work includes launching business accelerator programs for global entrepreneurs in the U.S. and around the world, co-founding the Portland community of certified B Corporations, and building capacity for  Innovation Law Lab, which provides pro bono legal counsel to refugees and immigrants. A musician in his youth, Cameron is a Portland native, lover of jazz and classical music, and graduate of Stanford University with degrees in Physics and History. He has visited over 50 countries, including living in Cuba for 6 months studying music.
---
Leslie Tuomi
Development Director, Chamber Music Northwest
Leslie brings a wealth of experience in nonprofit management and fundraising. Past positions include Chief Development Officer of Big Brothers Big Sisters Columbia Northwest, Vice President for Development for the Oregon Symphony and Executive Director of the Oregon Arts Commission.  A music graduate of Lewis & Clark College, Leslie is thrilled to serve on the BRAVO board, which combines her passions of music and helping children. In addition to her work at CMNW, Leslie volunteers her time as a "Big Sister" mentor, sings with various choirs and is active with community service projects. She and husband Scott Tuomi provide encouragement and support for their two sons and former foster son, all of whom keep music as an important part of their lives.
---
Seth Truby, ex officio
Executive Director and co-founder, BRAVO Youth Orchestras
Please see Seth's bio on our staff page.
---
Board members not pictured:
Bill Scott, Treasurer
Veronica Acosta
Joe Kye
Tamala Newsome
Kate Thompson
Bios and photos coming soon!