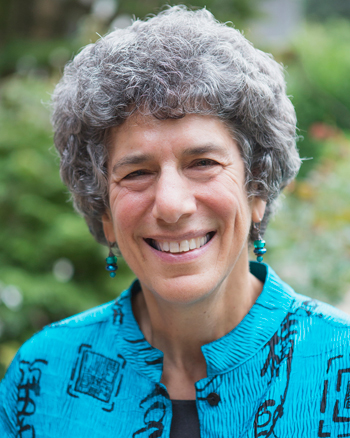 Most of our BRAVO family knows Dr. Bonnie Reagan as the co-founder and board president of BRAVO Youth Orchestras.  You might not know that she was recognized as the Oregon Family Doctor of the Year in 2010.  You almost certainly don't know that Bonnie is also the new board president of El Sistema USA, the national alliance of El Sistema-inspired organizations. She was elected to that position just last month after serving on the ESUSA board for one year.
Jenn Director Knudsen of 2B Writing Company spent time with Bonnie recently to ask about her life before BRAVO and her vision for El Sistema's growth in the US. As the only physician in leadership in our national movement, Bonnie has a special interest in the intersection of rigorous music study and long-term health outcomes:
"The whole goal of El Sistema is to change lives, not just to make great musicians. The longer these children stay engaged in making music together, the more likely they are to lead healthier lives."
Read the full interview and profile below.
Bonnie Reagan profile by Jenn Director Knudsen
Interviewed on 10/1/16
On a recent Saturday morning in her cozy craftsman home, Bonnie Reagan prepared herself hot tea in a mug emblazoned with a stick figure of a person hoofing it from a pursuing grizzly bear. Its title: "Canadian fast food."
Sounds hilarious. Until, that is, she picks up the mug to sip from it and says, "That was me."
World travelers, Bonnie and husband Pete once spent two weeks with a group on a rugged canoe trip in Canada's Northwest Territory, north of the Arctic Circle, where it remains light nearly all night long. At one of their camping spots, a fellow intrepid traveler returned from a late-night walk-about and casually reported he'd spotted a caribou carcass, up a slope not 100 yards from camp.
A number of folks in the group — the Reagans and two guides included — let their curiosity get the better of them. Up they trekked, over terrain rife with hummocks (the packed dirt equivalent of moguls on a ski run) to get a look-see. That's a bad idea in bear country.
One of the guides spotted from the corner of his eye the posthumous caribou's owner — a grizzly, of course — racing toward his group at about 30 miles per hour. Bonnie remembers him screaming: "Bear! Run!" The group took off, the guides' arms outstretched to capture and help push their charges down the slope.
The recipient of two artificial knees who walks with a slightly jerky gait, Bonnie, 70, says she recalls thinking only one thing, "I cannot fall because I'll jeopardize all of us."
Even in the face of terror, her first inclination was others' well-being. Indeed, others' well-being — both physical and emotional — defines her professional career as a family physician and low-risk obstetrician, and her post-retirement work as BRAVO Youth Orchestra's co-founder and president.
Bonnie says her greatest influence was her mom, Del Greenfield, who died in 2007 at age 91 after no fewer than 10 bouts of cancer. Del worked her entire life, always in matters of social justice. "Her tribe," Bonnie says, "was the world."
It seems the apple did not fall far from the tree.
Bonnie grew up in New Jersey and came to Portland in 1968 to attend a master's program at Reed College. While studying and teaching, she gave birth to two children and raised them while attending nursing courses at Oregon Health & Science University. After more schooling, she became a doctor and joined Pete in family medicine.
Medically-oriented and outdoor interests always have caught her fancy. "I have a lot of energy," she says, her eyes squinting as she smiles broadly. "I've been involved with a lot of cutting-edge things."
These include being in a leadership role in the implementation of Oregon's landmark Death with Dignity Act; enlarging Baby Blues Connection's outreach programs; serving on Physicians for Social Responsibility's board; and traveling with a Corvallis-based delegation of TOUCH, which helps orphaned children in Ukraine, the country from which her ancestors hail.
Her foray into BRAVO's creation seems a natural fit; while she downplays her personal connection to making music, she's passionate about music itself. "I have a background in music, but I'm not special; I call myself a mediocre musician," she says. She played piano for eight years and spent decades singing choral music, 20 of which were spent in Roger Doyle's Choral Arts Ensemble of Portland.
In 2012, Bonnie attended an Oregon Symphony concert featuring Arturo Marquez's "Danzon No. 2." So moved was Bonnie by the powerful wind-and-string-heavy score that upon returning home that night she immediately conducted a YouTube search on this newly discovered piece.
Her research led her to world-renowned Venezuelan conductor Gustavo Dudamel swinging his baton before a youth orchestra from his country. More digging led to El Sistema, of which Dudamel himself is perhaps the most famous graduate.
El Sistema, she learned, at its core holds up consistent and long-term music education as the key to a person's holistic — academic, physical, emotional — well-being. The other fundamental principle is that this rigorous music education must be available to the least advantaged children.
The El Sistema model had been adopted by a number of programs nationwide, but none existed in Oregon. Stunned and inspired, Bonnie recalls, "When I found out it didn't exist in Oregon, I remember my brain saying, 'OK. Start it.'"
Her enthusiasm led her to BRAVO co-founder and Executive Director Seth Truby who was conducting similar exploratory conversations in the community. Together they gathered a steering group which included Mark Woodward, now BRAVO's Artistic Director. Dedicated to bringing El Sistema-inspired music education to the children of Oregon, BRAVO Youth Orchestras incorporated in April 2013 and shortly thereafter qualified for 501(c)3 non-profit status. BRAVO launched operations in September 2013 with 40 children in its first after-school program at Rosa Parks School in North Portland.  From the beginning, Bonnie has served as board president, overseeing about 10 members.
Today, Oregon's only El Sistema after-school program serves nearly 125 children in the Portland Public Schools, at Rosa Parks Elementary School (K-5), Cesar Chavez School (K-8), and George Middle School. There, they commit to studying and playing music every day after school, for two hours at a time. BRAVO has a more than 80 percent retention rate; if a child digs in that first year, he or she stays for the long haul. And Bonnie has set her own example for the kids; at 69, she began taking violin lessons so she could more actively (and accurately) assist the kids in and for whom she so deeply believes and cares.
Already energetic, Bonnie animates further, saying, "Kids offer incredible hope and energy to the world. Especially kids without many opportunities to otherwise contribute to the community and feel good about themselves. BRAVO offers more of what all kids need: Loving adults and a group to belong to help strengthen them."
At Rosa Parks, where she volunteers regularly with BRAVO musicians (who call her "Dr. Bonnie"), she says, "Not a day goes by when something amazing doesn't happen in that music room."
Parents report their kids in the BRAVO program are more well-behaved at home; Rosa Parks reports their reading scores are higher than kids not part of El Sistema; and the kids themselves note the program's personal advantages.
Bonnie says one elementary school student once told her, "When I feel really bad, I get out my violin and I play it, and it helps calm me down."
Bonnie says, "The whole goal of El Sistema is to change lives, not just to make great musicians. The longer these children stay engaged in making music together, the more likely they are to lead healthier lives."
Quite possibly the only physician in the entire network of El Sistema affiliates, Bonnie was elected in September 2016 to be president of the board of El Sistema USA, the national alliance.  In both her local and national roles, Bonnie has set her sights on bringing El Sistema to as many children as possible, throughout our city and state, if not the entire nation. She wants music education to return to the schools.
The first recipient of the Schnitzer Wonder Award (in 2015) and the 2010 winner of the Oregon Family Doctor of the Year award — among a laundry list of other top-drawer accomplishments — Bonnie may well bring her health initiative to fruition.
If at age 70 and on somewhat shaky knees she can outrun a grizzly bear and live to tell — and even laugh about — it, Bonnie can outrun skeptics and bureaucracy to make her vision a reality. One BRAVO student at a time.