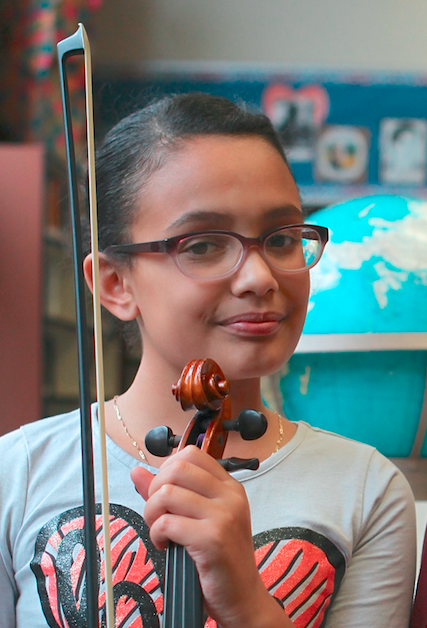 Davina, a 7th grader at George Middle School, is in her 4th year studying violin. She loves BRAVO because she gets to express her feelings through music. Her favorite composer is Bach.
When she joined BRAVO, she started learning about her family members from Cuba who were musicians. Her great grandfather played violin, her great grandmother played cello. She feels the legacy of her family when she plays her violin.
Davina has a few animals at home: a dog, two hamsters, 3 goldfish.  She loves animals and perhaps wants to be a veterinarian – or a professional violinist. She memorizes most of her music and has made rapid progress on her instrument.
One of the aspects she likes best about BRAVO is belonging to a group, like a quartet, and being part of a musical community. One of her favorite BRAVO experiences was performing for Governor Kate Brown's inauguration last year. "I felt grateful and honored."
profile by Bonnie Reagan