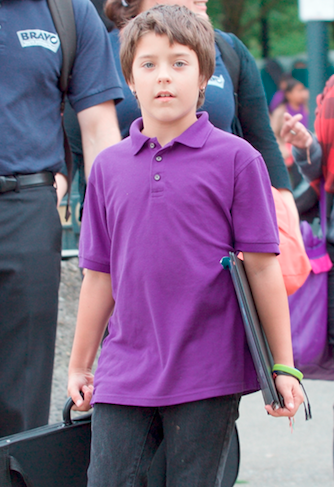 Michael is an 11 year old sixth grader at George Middle School.  This is his fifth year in the BRAVO After school program, and he loves his violin. He finds it entertaining. He also likes being pushed to work harder and learn more. 
He particularly likes fast music, classical music and hip hop. Although he pictures himself playing music his entire life, he wants to be a tech person when he grows up. 
He used to be very nervous when playing in concerts but now he finds them exciting and fun, once they start. He likes being part of a group and playing the violin makes him feel satisfied and happy. He especially loved being in the Black Violin concert in February 2016.  That was a high point!  Michael also takes private lessons with one of the BRAVO teachers, Ms. Stefana. 
His mom Kristina is an enthusiastic supporter of Michael's participation in BRAVO. She feels that taking care of his violin has made him more responsible in general. Also learning music has made him more emotionally aware, more sensitive. He responds to the music in movies more than he used to. 
Michael is proud to be in BRAVO and to play the violin, and he knows that it makes his mom happy. She feels BRAVO is an important part of his years growing up, because it is family-oriented, with dedicated teachers who give him the proper kind of attention. She finds BRAVO inspirational and supportive. 
profile by Bonnie Reagan