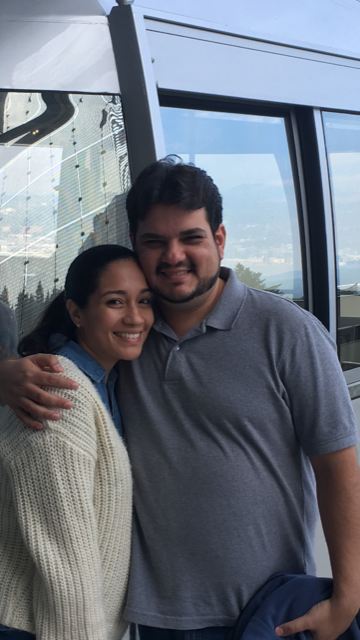 TOP VENEZUELAN MUSICIANS JOIN PORTLAND'S MUSIC COMMUNITY
After successful careers in their home country, husband and wife team bring years of teaching and performing experience to BRAVO Youth Orchestras
BRAVO is delighted to announce the hiring of Giancarlo Castro D'Addona and Marian Gutierrez as Teaching Artists.  Executive Director Seth Truby says, "We are extremely delighted to have two such accomplished musicians join our team. Together they will have a significant impact on the lives of our students and add their own energy to the musical community in Portland."
Giancarlo will teach brass with the BRAVO middle school wind ensemble, and Marian will teach violin and viola at the middle school strings program. Giancarlo will also be the new conductor of the BRAVO Community Orchestra, an intergenerational orchestra that rehearses weekly at University of Portland.  Marian will be this orchestra's manager and music librarian. Giancarlo will continue to compose and arrange, and is looking forward to meeting with ensembles who are interested in performing his music.
About Mr. Castro and Ms. Gutierrez
In the summer of July 2013, Venezuela's famed Simon Bolivar Wind Ensemble gave the world premiere performance of Castro's new composition in Paris, entitled "Rhapsody for Talents". This showcase for the wind instruments in the orchestra was commissioned by the Buffet Crampon company, a leading manufacturer of wind instruments in France since 1825. This joyride of a piece went on to win a Gold Medal in the 2016 Global Music Awards and has been performed in Radio France Theatre, Simon Bolivar Hall in Caracas, Venezuela, and most recently in Madrid, Spain.
Mr. Castro grew up in Barquisimeto, Venezuela, the home of Gustavo Dudamel, one of the world's leading conductors and the Music Director of the Los Angeles Philharmonic. Castro and Dudamel were students together in El Sistema, Venezuela's national program of social change through music. They studied together at the nucléo (music learning center) in Barquisimeto and have known each other well since about the age of twelve. Mr. Castro started out as a violinist, but quickly switched to the trumpet, where he excelled and quickly advanced into the top ensembles. He won a coveted position as a trumpeter in both the Simon Bolivar Symphony Orchestra (Venezuela's internationally renowned professional touring ensemble) and in the Simon Bolivar Brass Quintet, Venezuela's answer to the Canadian Brass.
One of his favorite experiences as a trumpeter was performing the famous brass opening of Star Wars in a performance at Walt Disney Concert Hall in Los Angeles with the composer himself conducting. John Williams has long been Mr. Castro's musical hero, and the opportunity to meet and make music with the dean of Hollywood composers was unforgettable.
Around age 22, Mr. Castro was inspired to begin composing, and he presented his first opus, Five Preludes for Piano, to Maestro José Antonio Abreu, the founder of El  Sistema, who connected Mr. Castro with a mentor to train him as a composer. In 2014, Maestro Abreu selected this rising star as El Sistema's Composer in Residence. During the two years of his residency, Mr. Castro wrote pieces for full orchestra, chamber groups and wind ensemble, many of which have been performed across Europe and the Americas.
A hundred miles away from Barquisimeto, in the ancient colonial town of Coro, Marian Gutierrez began her violin studies at the age of 9. A few years later, she won the concertmaster position in her local youth orchestra, then left home at 16 to move to Caracas to join Venezuela's top professional symphony orchestra. For 15 years as a violinist with the Simon Bolivar Symphony Orchestra, Ms. Gutierrez performed in many of the world's most prestigious concert halls including the Philharmonie in Berlin, Carnegie Hall in New York, and Royal Albert Hall in London. She has been teaching violin since she was 12.
In 2017, seeking new professional opportunities, Giancarlo and Marian moved together to Miami, FL, and just last month they relocated to Portland to join our team of Teaching Artists at BRAVO Youth Orchestras, Oregon's first El Sistema-inspired program.
Giancarlo says, "Participating in the BRAVO summer camp this June gave me a chance to meet the students and teachers, and I felt right at home. Without a doubt, BRAVO is a program that gives children hope and support through music. I'm excited to see the results that we can get working together, and eager to connect BRAVO to the musicians we know around the world."
Marian adds, "During Giancarlo's visit this summer, I talked with him on the phone daily, and he told me all about his wonderful experiences with the BRAVO students and staff, and also how fabulous the city is. I am very happy about our decision to settle in Portland, and everyone here has given us a beautiful welcome."