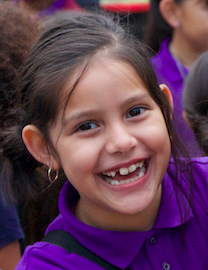 Michelle joined BRAVO Rosa Parks as a second grader in 2014. A year later, her mother Veronica joined our staff as the Family Coordinator. We were delighted that mother and daughter spent so much time together during BRAVO's third year. We're sad to see Veronica move on this year, but she's staying here in our community as a member of the administrative team at Rosa Parks School.
Michelle has started her third year with us, as one of the leaders of the Brahms string orchestra. Veronica took time to share some thoughts at the end of her tenure as Family Coordinator:
"Being the family coordinator for BRAVO has been such a gratifying, honoring and humbling experience. It's been an honor to work with such an amazing organization alongside beautiful people who go above and beyond to serve our kids. My daughter is in her 3rd year of BRAVO and I have always known that BRAVO was a wonderful organization. I had the privilege of being offered the Family Coordinator position and not until then was I able to see the hard work that goes into the amazing performances from the students, staff and volunteers.
"Through BRAVO I have learned that building relationships is key to any child's success. I have a deep admiration for the staff and volunteers who come every day and work hard and invest in not only teaching how to play an instrument but in building relationships. In a year I have seen growth in many students in taking ownership of their actions, gaining trust and bonds being built which in return turn into amazing musicians. Words fall short when I say BRAVO is an extraordinary organization. It is a blessing for both my daughter and I and all the children who are impacted by this amazing organization."