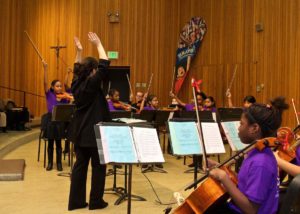 Our first-year strings from BRAVO Rosa Parks will make their off-campus debut at one of our favorite performance spots — the mezzanine at the Arlene Schnitzer Concert Hall!  They will play the prelude for the Young Person's Guide to the Orchestra concert. We are excited for this!!
Sunday, February 2, 2020
1:30-1:50 pm
Arlene Schnitzer Concert Hall
1037 SW Broadway St.
Portland, OR 97205
Tickets here
Thank you to Monica Hayes for this opportunity!