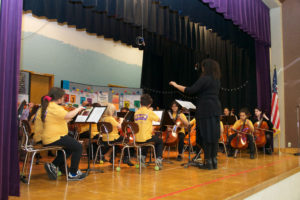 One month from today, the Chris Thile Orchestra from BRAVO Sitton will make their off-campus debut at World Arts Foundation's 35th Annual "Keep Alive the Dream" tribute to Rev. Dr. Martin Luther King, Jr.  BRAVO has participated in this annual event every year since 2014 (our first year in existence).  We are so pleased that students from our newest elementary strings site will be representing BRAVO this time around.  We will kick off the show in advance of the official start time, so be sure to get there early to catch us!
Monday, January 20, 2020
10:45-11:05 a.m.
Highland Christian Center
7600 NE Glisan St.
Portland, OR 97213
Suggested $5 donation or 5 canned goods for the Oregon Food Bank. See a preview of the event here.
Event goes from 11:00 am-6:30 pm
If you missed it, you can see the FULL program (including our opening) on our YouTube channel (under channel Playlists)!