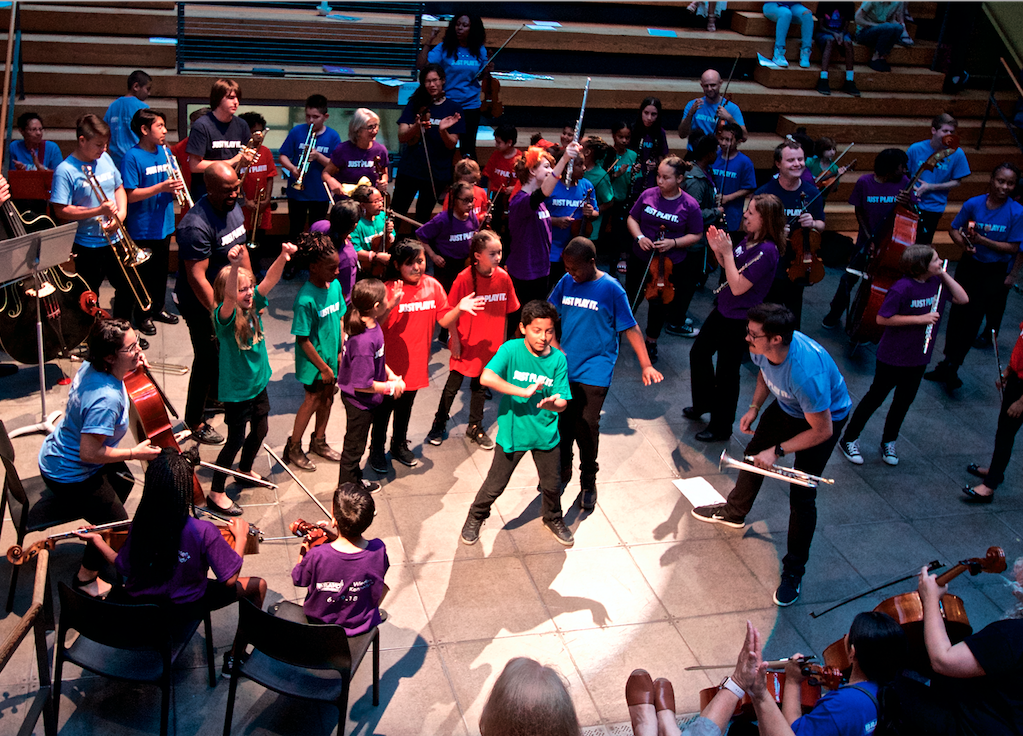 BREAK THE CAGE: International Teaching Artists bring Collective Composition to BRAVO
10 Teaching Artists from around the US and Venezuela arrived in Portland Sunday, June 24 to introduce a new, high-energy approach to music education with the students of BRAVO Youth Orchestras.  Collective Composition relies on musical experimentation, improvisation over grooves, and group creative play to help students find their own voice through musical expression. BRAVO students premiered their newly created works in a concert on Friday, June 29 at Wieden + Kennedy's world headquarters in the Pearl District.
Lead Teaching Artist Dan Trahey received a National Arts and Humanities Youth Program Award from Michelle Obama in the White House in 2013. As the founding Artistic Director of OrchKids in Baltimore, he has focused his teaching on Collective Composition for the past several years, with creative student music projects at the Library of Congress, Walt Disney Concert Hall in LA, and most recently with the national youth orchestra of Honduras.  "This work is about inclusion and broadening our perspectives.  It's about playing Beethoven and Beyoncé and everything in between. We're really focused on putting the students' voices and their experiences at the center."
Over the past year, several BRAVO Teaching Artists and directors have traveled to participate in Collective Composition workshops in Los Angeles, Baltimore, and Durham, NC. Their experiences learning from and working with other programs using this process serves as a good foundation for applying this new educational approach with their students here in Portland.
"When the kids are playing music they have written themselves, their sense of ownership is palpable and the energy is through the roof," says BRAVO co-founder and Executive Director Seth Truby.  "I've been a part of thousands of musical experiences of all kinds, but the first time I did Collective Composition with Dan and his kids in Baltimore just blew me away.  I knew we had to bring this to our students at BRAVO."
Flutist Juliana Pérez and conductor/composer Giancarlo Castro D'Addona traveled from the east coast to participate this week. Both these musicians grew up in Venezuela and were trained in the famous national program of youth music education called El Sistema. These award-winning performers were eager to bring their first-hand knowledge of social change through music to BRAVO, and in exchange to have their first experience with Collective Composition. "Creating art together is a way to save lives," says Ms. Pérez. "This educational approach teaches the students about creativity and commitment. What the students write is beautiful because they express themselves through music with guidance from the teachers. It's a platform for them to bring ideas about current political issues onto the stage."
Click here to see a Facebook album of photos from the 6/29 family concert at Cesar Chavez
Click here to see a Facebook album of photos from the 6/29 JUST PLAY IT concert at Wieden + Kennedy