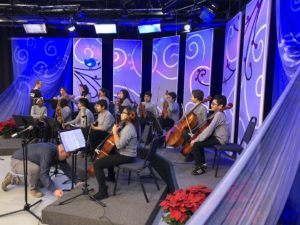 We're a tiny bit behind the ball, and maybe you've already seen us on air(?), but BRAVO's episode of MetroEast Holiday Showcase has already started airing and will be airing throughout the next month!
Our Vivaldi String Ensemble from BRAVO George Middle School appears in Episode 1 and in Episode A.  Schedules below:
Also appearing in this episode: SALT Academy SALTPAC, ASSIST Program, Boys & Girls Clubs, US Census Bureau, City of Fairview
Also appearing in this episode: Gordon Russell MS Jazz Choir, Gordon Russell MS Thunderbird Jazz, SALT Academy SALTPAC, Clear Creek MS Choir
Mark your calendars and catch us on one or more of these airdates!  Or, you can also watch us online here or here:
You can also watch MetroEast's behind-the-scenes video!