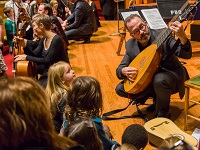 BRAVO is pleased to join Portland Baroque Orchestra again this year for their Young People's Concert.
Brahms (our second-year strings from BRAVO Rosa Parks) will perform a prelude concert at 2:30.  The concert goes from 3:00-4:00.
From PBO's website: "Teatro Milagro and Portland Baroque Orchestra collaborate to present this very special Young People's Concert. Watch an archbishop travel through Peru in 1767 in this performance featuring music from An Empire of Silver and Gold: Music of 18th Century Latin America. Teatro Milagro, Guest Director Dr. Daniel Zuluaga, five singers, and Portland Baroque Orchestra will perform this story in English and Spanish. This program is a one-hour family friendly version of the full An Empire of Silver and Gold program."
Saturday, November 17, 2018
First Baptist Church
1110 SW Taylor Street
Portland, OR 97205
2:30 pm prelude
3:00 pm concert
Click here for tickets.