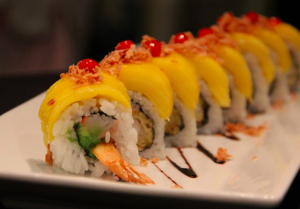 What does sushi have to do with stringed instruments?
Plenty – thanks to a new partnership between Samurai Blue and BRAVO. Join us to sample the wonderful fare at this locally-owned restaurant and support our BRAVO students at the same time. The generous owners are donating a portion of each sale of their Ceviche Sushi to support our music programs at Rosa Parks and Cesar Chavez Schools. A BRAVO student quartet will perform at a special reception to launch this new partnership:
Wednesday, October 28th             6-7pm
Samurai Blue    3807 N Mississippi Ave
Bring a friend and come enjoy good music and fine food together while supporting a wonderful cause.