BRAVO strives to reflect the diversity of our students in our teaching staff. Our instructors bring experience teaching and performing music in Venezuela, Mexico, Brazil, Taiwan, inner-city Los Angeles, North Portland and around the world. They are accomplished performers and educators committed to inspiring children and improving our community through music. Our leadership team brings professional experience with some of the most respected arts organizations in Portland and beyond.
Executive and Artistic Leadership
---
Karen Bailey
Office Manager since 2014
A violin teacher for over ten years, Karen is passionate about both children and music.  She holds degrees in both music and children's literature, and recently completed a Certificate in Non-profit Management and Development at Portland State University.  Karen worked previously with Laurita Jauregui as a volunteer teacher for the Portland Suzuki Project at Beach School.
---
Adam Eccleston
Winds Program Director, BRAVO Cesar Chavez since 2015
Originally from New York City, Adam moved to Germany with his family at the age of nine. There he studied flute with Eric Lamb and Thaddeus Watson in Frankfurt. While in Europe, he worked with Sir James Galway in Switzerland and William Bennett in England. He returned to the US to earn a Masters in Music from the New England Conservatory, in the studio of Paula Robison. Adam has also studied with Dr. Tara Helen O'Connor and worked with Marco Granados, Amy Porter, Leone Buyse and Jim Walker. As a soloist, he has appeared with several orchestras around the United States and Europe. He has also been awarded top prizes in various competitions, one of which is the New York Flute Club Competition. Before joining BRAVO, Adam taught at the Conservatory Lab Charter School in Boston for six years.    Visit Adam's website
---
Cecille Elliott
Site Director, BRAVO Sitton
Teaching Artist, Violin since 2015
Cecille has worn many hats as a musician. Growing up in the Midwest, she began her studies on the violin, later taking up the viola, and at the collegiate level she earned her BA from Western Michigan University studying voice. She has performed and freelanced in various groups enjoying a wide range of styles including classical, jazz, folk, rock, pop, and more. Since arriving in the spring of 2014, she has been performing and teaching in and around the Portland area.
---
Chris Fotinakis
Strings Repair Specialist
Chris Fotinakis left his native Nevada to study violin and voice at the University of Portland, and has been performing and teaching in the region ever since. He has played with the Vancouver, Newport, and Oregon East Symphonies and currently serves as concertmaster of the Portland Ensign Orchestra. As a singer, he has performed with the Portland Vocal Consort, Portland Symphonic Choir, and the Portland Baroque Orchestra and Chorus. Chris directs the music program at Trinity Academy in North Portland, and teaches strings at Holy Redeemer School. In his spare time he plays soccer, studies foreign languages, and spends time with his amazing daughter, Sabrina.
---
Marian Gutiérrez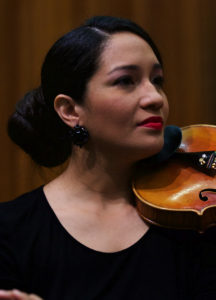 Site Director, BRAVO George
Teaching Artist, Violin since 2018
Born in Venezuela, Marian was trained within "El Sistema" founded by maestro José Antonio Abreu. At the age of 12, she was selected as a violinist in the Venezuelan National Children's and National Youth Symphony Orchestra. In 2001 she moved to Caracas to study violin at the Latin-American Violin Academy; she won a position in the Simón Bolívar Symphony Orchestra and performed in concert halls across the globe such as Carnegie Hall (USA), Berlin Philharmonie (Germany), Royal Albert Hall (England), playing with renowned conductors such as Sir Simon Rattle, Claudio Abbado, Lorin Maazel, and Gustavo Dudamel. In 2017, she moved to Miami and joined the first violin section of The Miami Symphony Orchestra and its production team. She and her husband Giancarlo moved across the country to Portland in 2018 to join BRAVO. In 2019, she became the new conductor of Overture Strings ensemble at Metropolitan Youth Symphony (MYS).

---
Amelia Hunnicutt
Site Director, BRAVO Rosa Parks
Teaching Artist, Cello since 2016
Amelia is a native Oregonian whose musical studies began at the age of 8 when she began taking piano lessons. At 10 she was introduced to the cello through an afterschool orchestra program. She later played in local youth symphonies in and around Eugene until she moved to Portland to attend the University of Portland. For 4 years she was the Principal Cellist of the University of Portland Orchestra and enjoyed being a member of a string quartet. In 2014 she earned her BS in Biological Studies and a minor music with an emphasis in cello performance. Amelia loves to dabble in all genres of music but particularly enjoys folk, fiddle, and hymnal tunes. Currently, she plays with the Oregon East Symphony and fills her schedule working as a freelance musician around Portland and volunteering with her therapy dog, Bailey.
---
Laurita Jáuregui
In-school Program Manager  since 2013
Laura Elena Jáuregui Wynter (aka Laurita), is a native of Portland, OR with a Mexican-American heritage. She began her Suzuki violin studies at age 5 and joined the Portland Youth Philharmonic performing orchestra at 13. She began teaching Suzuki violin at 16 with the support of her mother, a Suzuki piano teacher. As an adult, Laurita continued her musical studies at Portland State University under Carol Sindel, and completed her Bachelor of Music in Performance in 1998. She has played professionally with several orchestras in Mexico and the US. A former faculty member at both the Community Music Center and Ethos, Inc, she maintains a private studio out of her home in NE Portland. Laurita is currently the Co-Director of the Oregon Suzuki Association and the Assistant Director of the Oregon Suzuki Institute.                            Visit Laurita's website
---
Natalie Neshyba
Site Director, BRAVO Clarendon
Teaching Artist, Woodwinds since 2016
Natalie Neshyba is an active flutist and clinician in the Portland/SW Washington area. She received her BM in Flute Performance from Central Washington University and her MM in Flute Performance with a Teaching Assistantship from University of Northern Iowa. She performed in Metropolitan Youth Symphony and Portland Youth Philharmonic when she was younger, and has taught Music Theory for PYP. Natalie currently enjoys performing with the Portland Columbia Symphony Orchestra on both flute and piccolo. When not fluting, Natalie loves to volunteer in her community, cook, and play tennis.
---
Seth Truby
Executive Director and co-founder
Seth grew up in a large family in Durham, North Carolina, playing sandlot football on the "wrong side of the tracks" and playing violin and piano on the other side of the tracks. After winning a scholarship to study violin at the North Carolina School of the Arts, Seth toured the capitals of Europe with an elite orchestra before attending Oberlin College and Conservatory as a National Merit Scholar. He was employed as a social worker and carpenter before embarking on a ten year career as a professional violinmaker. Seth was a founder and fundraising chair of the Portland Village School, now the city's largest public charter school, and he was Director of Development and Community Engagement at Chamber Music Northwest. He and his wife Angela, a midwife, have two daughters, and they all enjoy camping, home repair projects, and making music as a family. BRAVO joyfully brings together many threads in Seth's life and demonstrates his belief that the beauty of music should be accessible to all.
---
Mark Woodward
Artistic Director and co-founder
An energetic conductor, pedagogue, and composer, Mark oversees BRAVO's team of Teaching Artists, interns, and volunteers. He conducts the Vivaldi String Orchestra and the BRAVO Community Orchestra. In addition to shaping the curriculum, Mark also arranges much of the BRAVO repertoire. A former faculty member at Community Music Center and Pacific Youth Choir, Mark currently conducts the Multnomah Chorus at Multnomah Arts Center and maintains a private piano studio. Mark earned a Master of Music degree from the University of Missouri – Columbia. He is a recipient of the Sinquefield Prize in Composition. Starting in 2015 Mark served on the International Teaching Faculty for El Sistema USA's National Take a Stand Festival, a multi-year project culminating in ESUSA's first national youth orchestra which performed at Aspen under Maestro Robert Spano and at Disney Hall in 2017 under Maestro Gustavo Dudamel.
Staff portraits by Mia Allen, Rich Kolbell and Kimberly Warner