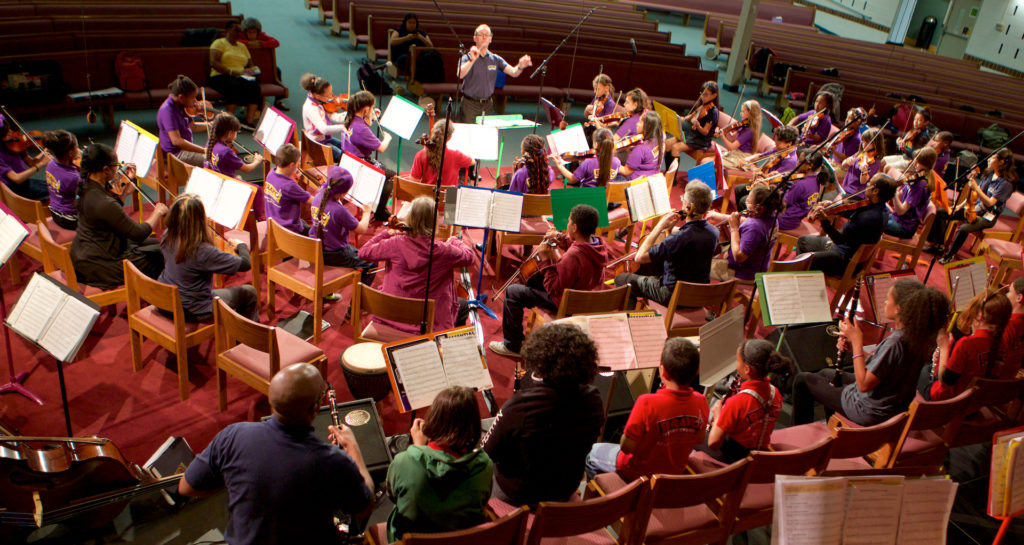 BRAVO is partnering with the University of Portland this fall to create a new intergenerational community orchestra in North Portland.
For the the last two years, BRAVO has partnered with Metropolitan Youth Symphony and Pacific Crest Youth Sinfonietta to offer expanded opportunities for BRAVO students to play in Friday night or Saturday afternoon orchestras, where they learned new repertoire and were introduced to other youth, community musicians and conductors in the metro area. As BRAVO grows and serves more students and schools each year, we want to offer more opportunities like this right in our North Portland neighborhood.
We have designed a new all-ages, full symphony orchestra (strings and winds) that will rehearse weekly on the beautiful University of Portland campus (5000 N Willamette Blvd).
Buckley Center Auditorium
Friday evenings from 6-8pm
Starting Sept 16
The BRAVO Community Orchestra (BCO) will present three concerts during the 2016-17 season: December 16, March 17 and June 2.
A key component of the BCO is inviting University of Portland students and community musicians to be orchestra mentors to the young BRAVO players.
If you or a child in your family is interested in playing with the BCO, please contact Karen Bailey, the BCO manager as soon as possible by emailing [email protected].  Participation in the orchestra is by audition only. Please contact us for more information about auditions and our sliding-scale tuition. No qualified musician will be denied participation due to financial reasons.