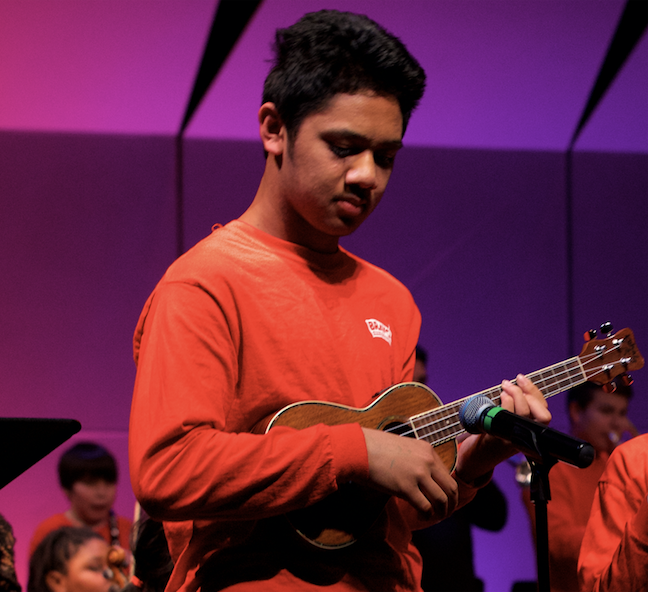 An 8th grader at Cesar Chavez School, Aisea is finishing his third year as a trumpeter in the D'Rivera Wind Ensemble, and he's had quite a year.
He was wait listed for YOLA National (national youth orchestra for students in El Sistema-inspired programs), he took second place in shot put at the Meet of Champions, and he was an All-State football player.
"I would like to play pro football, or else have a music career, or else serve my country, "Aisea says. "Life holds a lot of ups and downs, but you have to look on the bright side."
Although he excels most on his trumpet, he also plays seven other instruments: trombone, ukulele, guitar, piano, French horn, baritone, and drum set.
"I like playing music and hanging with all my friends and loved ones. I like any kind of music. I like performing. That's where all your hard work pays off, where you show your talents, how you've improved. I like the BRAVO Program the way it is, but you should bring more kids into it so they can have music too."
Aisea comes from a big family, and most of them are musical. "I love my family.  My mom is the person I admire most; she is very hard-working. We have five kids; four are in BRAVO.  My older brother, who is in high school, started playing trumpet after I did.  Now he is in the school band."
"BRAVO has taught me to open up more personally.  My attitude is better.  BRAVO makes me feel good, welcome, included.  I feel I belong. I'm proud of meeting new people.  I used to be a shy kid.  Now I can talk to anyone."
Aisea, we're excited to see the impact you'll have on stage, on the field, and in the classrooms at Roosevelt High School starting next school year!
profile by Bonnie Reagan
photo by Rich Kolbell