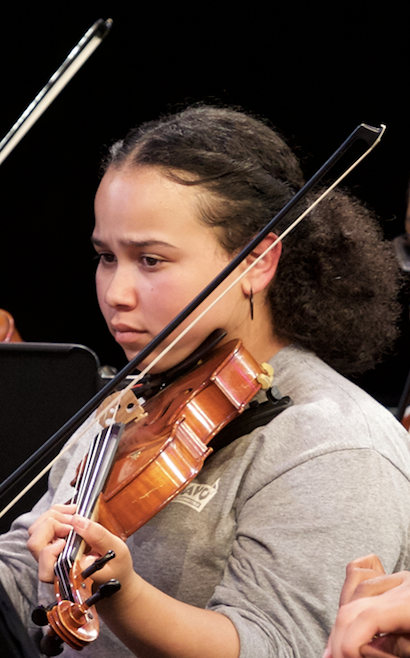 Amirah is an 8th grader at George Middle School finishing her 5th year in BRAVO. She plays viola in the Esperanza Spalding Strings and in the BRAVO Community Orchestra.
One of Amirah's highlights this year was auditioning for and making the wait list for the YOLA National youth orchestra.
"What I like best about being in BRAVO is I get to play the instrument I want, which is the viola. I love my viola. She feels like she's mine. Her name is Violet. I named her when I first got here. I want to play viola for as long as I can. I am the first to play music in my family."
"I like to play fast music that takes my mind off of things. Besides music, BRAVO has taught me how to get along with people, both inside and out of our orchestra. In BRAVO we are like a family; it's developed into that over time. It's also taught me that I'm good at things besides academics."
Amirah is getting ready for high school, but she's already thinking about what comes after that. "I want to go to college and then go to the Navy, and then I want to be trained to be a musical therapist. Music can help connect kids who can't express themselves. Sometimes I play when I'm really upset and it helps me.  It also makes me feel like I'm part of something bigger.  I love performing. It was nerve-racking at first but now I love performing in front of a lot of people. Performing is always a risk that I take."
"I would like to have private lessons soon. I like being in the BRAVO Community Orchestra.  The music is very challenging, but it gives me a regular chance to experience playing in a full orchestra."
"I feel positive about the future. I'll graduate on time. I hope my instrument will help me get a scholarship. I'm proudest that I kept going, that I didn't quit.  My mom encouraged me to perform when I didn't want to; she helped me get through the low points I had in BRAVO.  I live with my mom, also see my grandma often.  I admire my mom most of all. She is doing doing amazing things."
Amirah, we feel positive about your future too, and you're going to do amazing things just like your mom!
profile by Bonnie Reagan
photo by Rich Kolbell