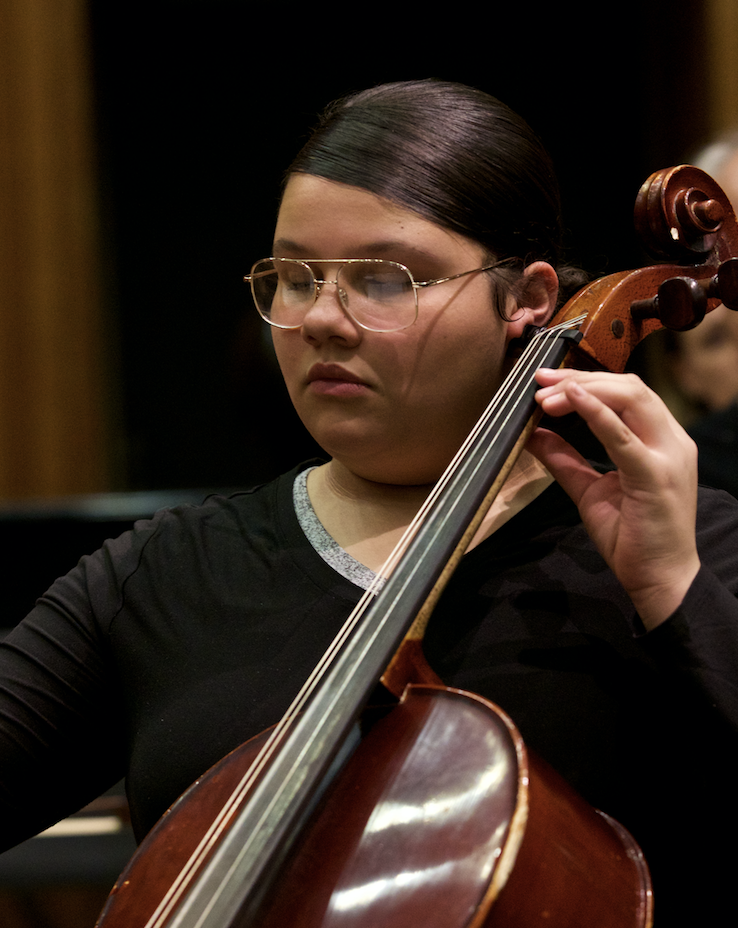 Camelliah is a 7th grade cellist at George Middle School, now in her 6th year at BRAVO.
Cami is one of the original students in our first string orchestra at Rosa Parks School.  She started  BRAVO as a 2nd grader in the fall of 2013.  She was very shy at first, and now, after years of hard work and perseverance, is our principal cellist. She still has the paper violin she made with her family at the beginning of her BRAVO journey. She has had quite a journey since that first year.
"We have done a lot of things, have visited a lot of places, and met a lot of people.  We have had many opportunities. Look, when I was in the fifth grade, we got to play for the Governor!  We played at the Schnitz. We got the chance to audition for the national youth orchestra (Cami is on the wait list), and to play in the BRAVO Community Orchestra. BRAVO opened another half of me.  If I didn't do BRAVO, I wouldn't have anything to do after school."  
Cami's grandma is one of our biggest fans and is present at nearly every concert her grandkids perform in. "My Grandma thinks BRAVO is a good thing.  My Grandma helps me a lot. I live with my sister Daliah and my grandma. I admire my grandma more than anybody. She's made us who we are now. She's told us stories, taken us to Cuba to visit our family there, and has always encouraged us."
Cami's attitude about BRAVO has changed over time. "At first, I didn't like playing five days a week at BRAVO.  But the teachers kind of understand us as kids and help us do the best we can. They taught me how to read music, learn solfege, play a cello.  Learning an instrument, learning to play music, expands your brain. I like the cello because it's a balance between low and high, and it can be rhythm for a song, or it can be the melody. I want to keep playing my instrument for a long time."
I play in the BRAVO Community Orchestra too. The BCO is good. One of the adults in the orchestra said to me:  'I think you play better than me.' I like performing and putting in the effort. My Grandma said to me 'You need to do good for yourself.  You need to work hard for yourself.'"
We asked Cami what thoughts she has about her future. "I want to be a medical doctor, a pediatrician. I want to be a doctor so I can help people. My grandma has some medical problems and I want to help her and people like her. I also want to keep playing my instrument to help calm me down. I feel good about the future. If I can get higher education because of BRAVO, it would be good."
Here at BRAVO, we know plenty of doctors who are also musicians.  Cami, we're excited to see you pursue both dreams in the years ahead!
profile by Bonnie Reagan 
photo by Rich Kolbell