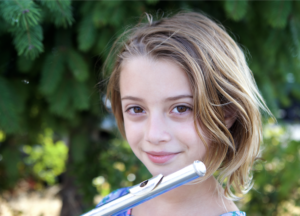 Emory is a 5th grader at Cesar Chavez School, now finishing her third year in BRAVO. She always wanted to play an instrument, especially the flute, which her aunt played. She wants to have music in her life, as she grew up with it in her home. Her favorite music is Chopin, Queen and David Bowie.
"BRAVO has taught me to play the flute, but also to be a better human.  It has made me less shy; I now have more friends and more social skills.  It helps me focus better at school.  And if I feel sad, I have something to look forward to. BRAVO also gives me something to talk about when I go home.  Playing the flute makes me feel special."
"I'm glad I have something to come to. Sometimes I go to BRAVO when I'm tired or not feeling good and going to BRAVO makes me feel good. The teachers are really good and find music that we like.  Sometimes we play the same music too much, over and over, but then we get something new. I'm glad I've stuck with it. I like concerts because I like to play for people who want to hear kids play music."
Emory wants to be a molecular gastronomist when she grows up. Her dad is teaching her how to cook. She admires both her parents a lot.  They are teachers. Her dad played saxophone and her mom used to play piano.
"BRAVO is amazing! I feel so lucky to have it in my school.  My twin brother Owen, who plays trombone, loves it just as much as I do."
profile by Bonnie Reagan