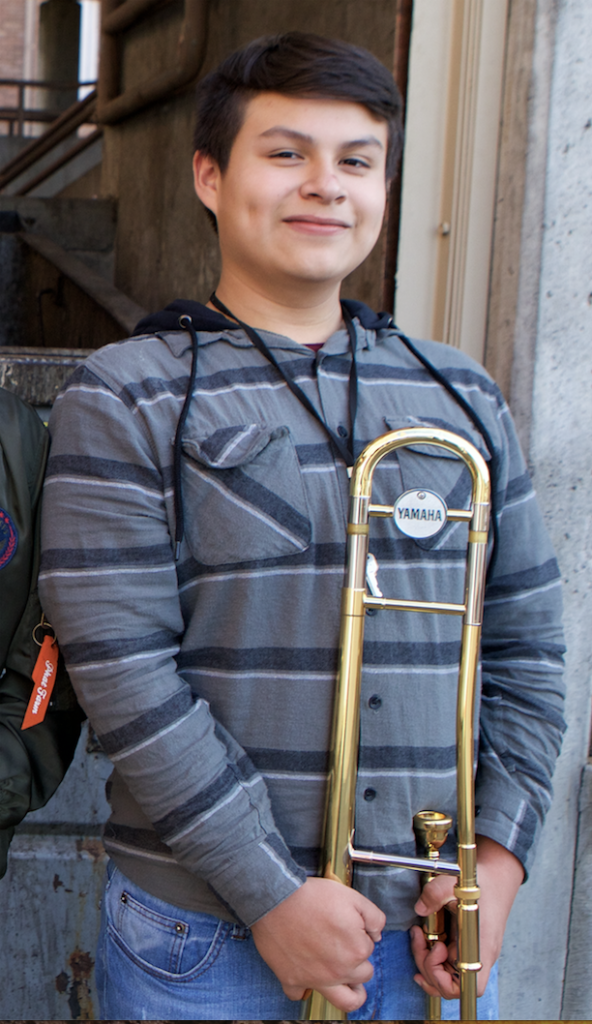 Eric is an 8th grade trombonist at Cesar Chavez, finishing his fourth year in the D'Rivera Wind Ensemble.
"At first BRAVO was just something to keep busy, to do something. Now it's a passion."
Eric loves all kinds of music and is glad that his BRAVO teachers introduce him to such a wide range of styles. He doesn't really have favorites, he just likes to play his trombone. He feels he has made the right choice with his instrument, although he is also teaching himself guitar and he takes piano lessons through BRAVO's partnership with Michael Allen Harrison's Play It Forward program.
"I've learned to focus more, to give it all I have, to do more in general. Playing also relaxes me, and sometimes it excites me.  Making a living playing music will be hard but I am up for the challenge. I am proud of being in BRAVO; my day revolves around being here."
He has recently been selected to play trombone in the YOLA (Youth Orchestra of Los Angeles) National Orchestra in July, will play with students from all over the United States under the celebrated  conductor of the LA Philharmonic Gustavo Dudamel.  Three other BRAVO students were awarded wait list positions.
Eric is a little worried that playing in the National Orchestra will be very difficult but also knows that if he applies himself and has support that he can do it.  He has learned to be confident. "When I work hard with my teacher helping me, not only does the teacher tell me I am doing well but I can feel the difference.  I can hear that I am playing better and I can feel my confidence grow."
Eric, we are so proud of all the effort you put into your audition and excited for your upcoming musical adventure in Los Angeles on one of the world's great stages!
profile by Bonnie Reagan 
photo by Rich Kolbell