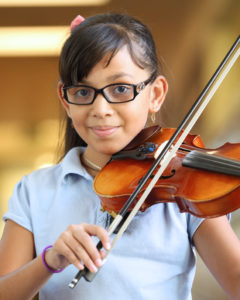 Her hands move like dancers, seamlessly forming the hand symbols for DO RE MI, the singing language the Rosa Parks Elementary School BRAVO students learn for reading music. The language is called solfége, and Esmeralda started learning it as an eight year old in third grade, in BRAVO's very first class. With the music already in her head from singing notes in solfége, she translated it into the notes on her violin of Bach, Vivaldi, and many others, although those two composers remain her favorites.
Esmeralda is now a 12 year old 6th grader at George Middle School, and the oldest of three Ramirez sisters in BRAVO. Two sisters play violin, a third plays viola, and the fourth sister, too young to be in the BRAVO after school program, already has her sights set on the cello.
Esmeralda loves playing the violin and wants to become a violinist or a teacher, or maybe a doctor. She is already teaching music to her sisters at home.  She loves learning and feels that practicing music has helped her do better in academics, especially math. She says, "Music is something wonderful in life."
She also feels that music calms her.  When her active family gets to her, she takes out her violin and plays for herself.
Last summer, Esmeralda was chosen to play at the Young Musicians and Artists (YMA) camp in Salem for a two week period. Never away from home before, she loved it and wants to return.  In the second violin section of the YMA orchestra, Esmeralda got to play a Schumann symphony and many other pieces of classical repertoire. Her YMA teacher relates that while other kids were scribbling down her instructions on their music, Esmeralda simply listened and absorbed it, and was a quiet leader of the class.
Feeling very much a part of the BRAVO community, she occasionally gets to be the concertmaster, sitting in the first chair of the violin section. She was the concertmaster for BRAVO's recent performance at Governor Kate Brown's inauguration in Salem.  When asked what it felt like to play for our elected leaders in the Capitol, Esmeralda beamed and said "Awesome!"
Profile by Bonnie Reagan