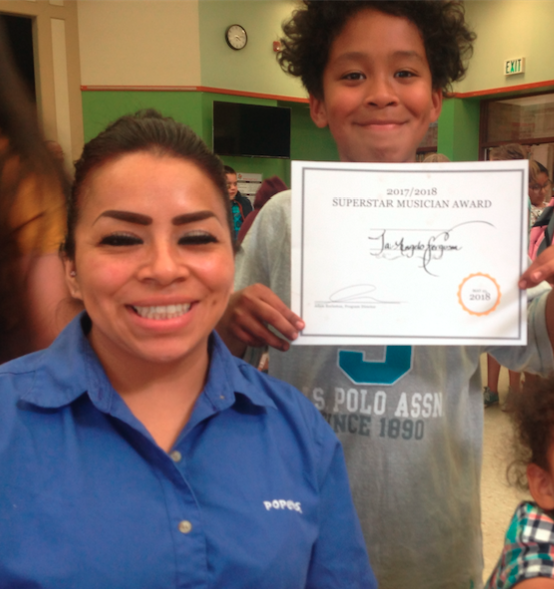 A 4th grader at Cesar Chavez School, Ja-Angelo is in his first year studying trumpet in the Teresa Carreño Wind Ensemble. At the year-end celebration for BRAVO Cesar Chavez, he and his mother Isabel shared a table with BRAVO Executive Director Seth Truby and related how studying music has changed things not just for Ja-Angelo, but for the whole family.
"After school and especially on the weekends, Ja-Angelo is always in the bathroom practicing his trumpet. It's the only place in the house where there aren't other people. But of course we need to get in there too.
"I heard another kid playing outside at Cesar Chavez one day and it gave me an idea. So I took Ja-Angelo to Mt. Tabor which is one of my favorite parks. He found a bench at the top of the hill and started playing his trumpet. People in the park were taking his picture and making videos. All the attention made him shy, so he stopped playing.
Ja-Angelo says, "I want to get really good and be a famous trumpet player some day."  Isabel says she's going to help him get more comfortable in front of the camera so he can realize his dream of playing music for the world.
Ja-Angelo was just honored by his peers with the Superstar Musician Award for his ensemble. We think it's a sign of great things to come for this hardworking and talented young musician.