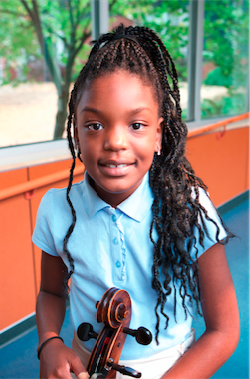 Jadah is a 4th grader at Rosa Parks School, now starting her third year in BRAVO. What she likes about BRAVO are the opportunities to play concerts, interacting with other kids that she might not otherwise meet, and getting the chance to choose a favorite instrument. She started on violin, then switched to cello, and she is especially interested in piano.  Jadah will be starting piano lessons soon, through BRAVO's partnership with the Snowman Foundation. She also likes to sing. 
Jadah likes to play at different places: universities, churches, the library, government buildings. Her favorite music is what she hears on the radio. When asked if BRAVO has helped her, besides learning music and different instruments, she said that playing two hours a day helps her sleep better. Jadah's mom, who used to play clarinet, wants her to go to a performing arts high school, is interested in her progress, attends her concerts, and helps her improve. 
Jada wants to be a gymnast, a singer, and  a pianist.  "BRAVO makes me happy because I have an activity to go to.  it encourages me to do better, and inspires me.  I have a group I can trust," she says.   The people she admires most are her mom and Beyoncé.
Keep practicing all those instruments Jadah, and sweet dreams!
profile by Bonnie Reagan
portrait by Rich Kolbell