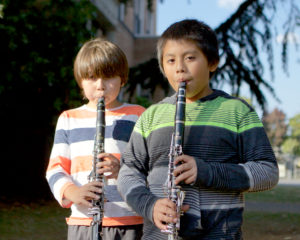 Jasper is in his first year of BRAVO, playing clarinet at Cesar Chavez School. He is 8 years old and in 3rd grade.
He is very happy to be learning how to read music and to play an instrument. His mom used to play the accordion and his great grandpa played violin. He is interested in jazz. He enjoys the songs he learns at BRAVO but sometimes "they get stuck in my head."
He thinks he may want to be a musician because it's fun to play music but also fun, he thinks, to create your own music.
He plays his clarinet at home after he reads, and it makes him happy. it also calms him down. He sometimes talks to his clarinet.
Jasper is very proud that he was selected to be in the BRAVO program.
Profile by Bonnie Reagan