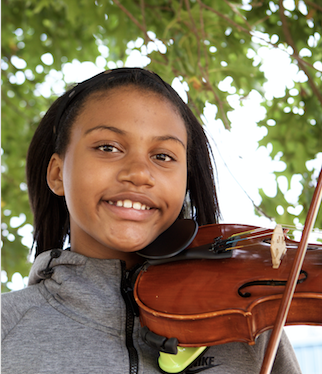 Lauren is a 5th grader at Rosa Parks School, now in her fourth year as a BRAVO violinist.  She is from a very musical family and finds that her involvement with BRAVO has made her appreciate it much more. She has learned a a lot about different kinds of music, especially likes jazz and also sad music. She loves her violin, hasn't given it a name but considers  calling it Zapituza, a name she made up. Music has helped her to focus, and she believes it will open doors of opportunity for her. She would like to be a doctor, or maybe a lawyer ("I like arguing.")
Lauren finds BRAVO to be hard work and sometimes boring.  Sometimes it's fun, especially when they are preparing for a concert and the Teaching Artists become more "serious and strict."  At first, she spent time copying the finger movements of another BRAVO child, and is proud that now she can figure out her fingering herself.
Lauren says of her family: "I love my family.  They are very complicated. My sister is 12, funny. We are all goofballs, very silly. We like to laugh a lot. My dad's side of the family lives in LA. I have lots of god-siblings. I admire my great-grandmother Nancy, who lives in L A with my grandmother. She is so chill. My sister is starting to play the clarinet in band, my uncle plays piano and raps. My other uncle plays drums and is silly. My cousins sing."
One of Lauren's BRAVO teachers says that she is a very talented visual artist and will be contributing to one of the BRAVO concerts with her art. She loves African designs.  Hopefully later this spring we will all get to see Lauren's artistry honoring Wakanda!
profile by Bonnie Reagan
portrait by Rich Kolbell