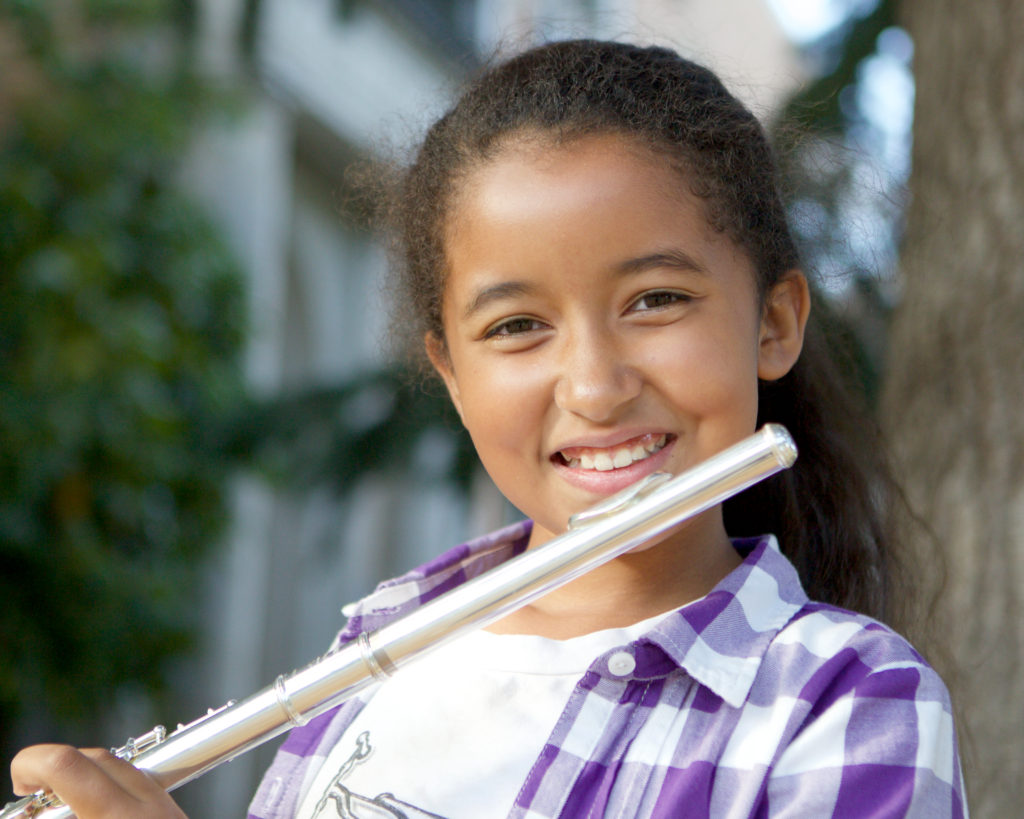 Symone is a 10 year old flute player in the 5th grade at Cesar Chavez School, and this is her first year in BRAVO. She likes playing her flute and wants to learn the clarinet as well. She memorizes all her music. "It's fun hangng out with other people. It makes me happy. I really love being here." She finds playing music calms her down as well. She practices her flute at home, often with her mother, also a flute player and a volunteer at BRAVO Cesar Chavez. Symone admits that sometimes she plays her flute when she should be doing her schoolwork.
"I love playing the flute.  it gives me something to do. I'm not bored…..My flute is counting on me.  I take care of it. Its name is Hope….BRAVO makes me feel more confident. brave, and I'm having fun."
When she grows up, Symone hopes to be a model or to be a doctor, because she likes to help people.  She expects to be playing her flute, too.
Symone's mother is Monica Myers. Monica says of her daughter: "I've never seen her so passionate about anything as she is about BRAVO. She has a new sense of pride. She has two siblings but distinguishes herself by being the only kid in the family to play the flute. She never needs prompting to practice, and she loves playing. She may be interested in playing music professionally. "
Monica hasn't played her flute since college, but is enjoying playing duets with her daughter, and coming in to Cesar Chavez to give the other beginning flute players a little one-on-one time. She says, "BRAVO is the most amazing program I've ever seen.  Adam Eccleston [Program Director of BRAVO Cesar Chavez] is a fascinating  and incredible teacher and has great rapport with the kids."
"We are blessed to be a part of this program."
Profile by Bonnie Reagan