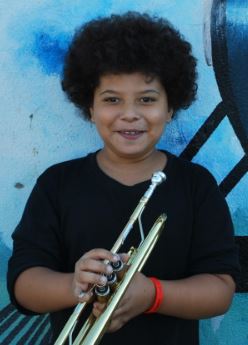 Ta' Raey is a 9 year-old 4th grader in his first year playing trumpet at BRAVO.  He sat comfortably in the Cesar Chavez BRAVO office and greeted me with " We both have afros."  I am used to putting others at ease, and this comment about us having something in common was unexpected and a lovely way to start the conversation. While we spoke, Ta'Raey, who says he is a musician, a gamer and an artist, drew a self-portrait for me.
Ta'Raey loves rap music and singing; he feels he is good at sounding like other singers. He likes his trumpet but also wants to learn percussion.   His cousin, who played trombone, switched to percussion.
He wants to be a You -tuber when he grows up, to make videos. "I already have plans" he told me.
"When I get home from school it's fun because I get to play with my little brother Darnell.  We play Xbox and I play board games with my family. I live with my mom and my brother. Obviously I admire my parents, Chris Brown, and Ayo and Teo."
He is proud of playing an instrument. It was his idea to join BRAVO. He was unsure if he could learn an instrument but feels comfortable now.  BRAVO has helped him focus.  "I haven't played a concert yet but I'm ready."
When asked about how being in BRAVO makes him feel, he didn't hesitate:
"I get to play the instrument and be with my friends and make new friends. I have lots of new friends. I find a feeling of energy.  BRAVO makes me happy."
Profile by Bonnie Reagan
Photo by Alex Ledesma