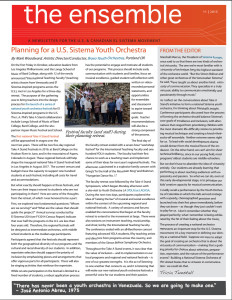 BRAVO Artistic Director Mark Woodward recently wrote the lead article in the November 2015 edition of The Ensemble – the national newsletter of El Sistema in the US. He writes persuasively about the key value of inclusion in the upcoming national youth orchestra festivals in 2016 and 2017, and he summarizes some of the activities he and other BRAVO leaders participated in when they attended the ESUSA conference in LA in October. We've provided a digital copy of the newsletter here for download.
Congratulations to Mark for his selection as a member of the International Teaching Faculty for the National Take a Stand Festival Orchestra.
Subscribe to The Ensemble:
If you are a committed volunteer or active member of our community and would like a free subscription to The Ensemble, please email editor Tricia Tunstall at [email protected], with subject: subscription request and let her know you're with BRAVO!