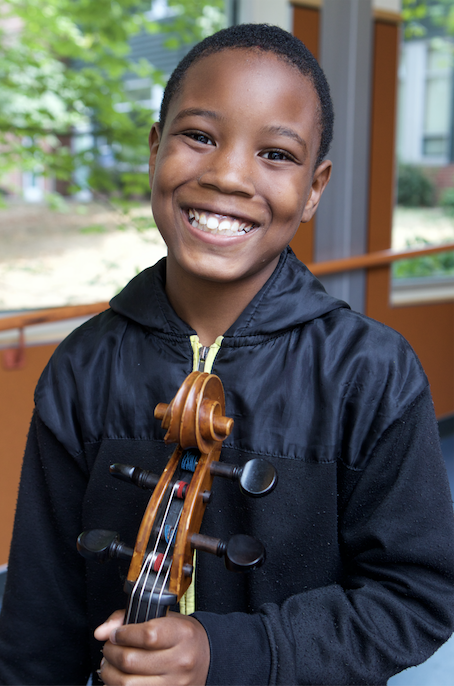 There are several things Solomon likes about being in the BRAVO program:
"You get to play an instrument; you get to play concerts; you get to play music you never heard of."  He plays cello as it is the closest thing to playing the instrument he really wants to play: the double bass. His sisters Sapphire and Naima play violin in BRAVO.  His parents like to sing.
Solomon is a 4th grader at Rosa Parks now in his second year with BRAVO, playing in the Brahms String Orchestra.
He likes all kinds of music, especially classical, R and B, hip hop. He played violin first, then switched to cello. The bass is in his future: "I like the bass because it's so big and it goes deep."
When he grows up he wants to be a musician, a DJ, and an athlete.  He plays basketball, and admires the basketball player from Cameroon, Joel Embiid.
When asked how he thought we could improve BRAVO, Solomon was quite forthright: "We could have more choices. We should offer more instruments at each school, like having flute at Rosa Parks. What if someone here wants to be in BRAVO and wants to play the flute?"
Currently, Clarendon Early Education Center is the only site we have that has both strings and winds.  We haven't -yet-been able to fulfill Solomon's dream of having winds offered at Rosa Parks but we are thrilled that he is thinking so constructively about how to make BRAVO better. Thank you, Solomon. And next for you, the bass.
profile by Bonnie Reagan
portrait by Rich Kolbell