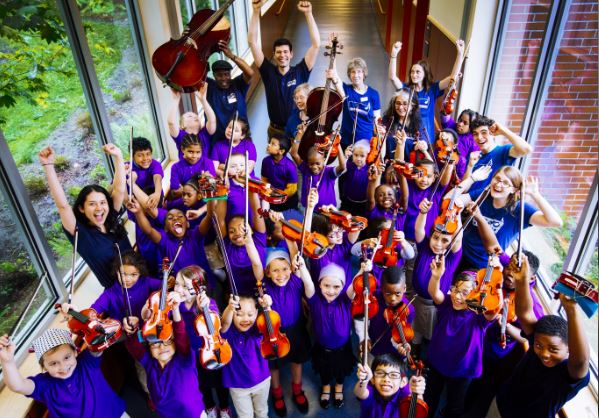 Job Description:  BRAVO Family Coordinator for Rosa Parks
Position Summary:
The BRAVO Family Coordinator is the primary liaison to parents and guardians of BRAVO students, attending the program daily and assisting with attendance, classroom management, and emerging situations such as minor health-related events and student discipline.  The Family Coordinator will work under the supervision of the Site Director to contact student families regarding regular program attendance, participation in concerts and special events, and other BRAVO-related business.
Position: Family Coordinator at BRAVO Rosa Parks  (8960 N Woolsey Ave, Portland)
Reports to: Site Director
Hours: 2-4:30pm Mon – Thurs, 1:15-4:30pm Fri, schedule closely follows the school year
Works closely with: Site Director; Site Coordinator; Executive Director, BRAVO parents/families
Compensation:
Wage: $15/hour
Personal Time: 7 hours per year
Sick Leave: Accrued hourly as per City of Portland Protected Sick Time Ordinance
Key Responsibilities:
Daily participation (M-F) as a member of the BRAVO staff team
Manages attendance-related communications on a daily basis
Creates, receives and tracks permission slips for events and field trips
Serves as liaison to Rosa Parks staff and Boys and Girls Club staff for communications regarding student participation and well-being
Participates in professional development with other BRAVO staff
Participates in weekly staff meetings for continuous improvement
Attends selected concerts/field trips at the request of the Site Director
Assists with additional BRAVO projects at the request of the Site Director or Executive Director
Creates a nurturing, welcoming environment for students and their families
Organization Description: BRAVO Youth Orchestras is a dynamic organization now in its fourth year, transforming the lives of underserved youth through intensive orchestral music education. Launched at Rosa Parks School in 2013, BRAVO serves five priority schools in 2018-19, bringing daily choral and orchestral music instruction to schools which have not had music education for years. BRAVO currently serves 175 students in daily after-school programs at three schools and another 600 students through in-school programs taught in partnership with PPS teachers.
To apply, please submit a resume, a letter of interest and three reference contacts by Mon, Oct 15 to:
BRAVO Youth Orchestras
                PO Box 17356
                Portland, OR 97217
Or email the above documents to:       [email protected]